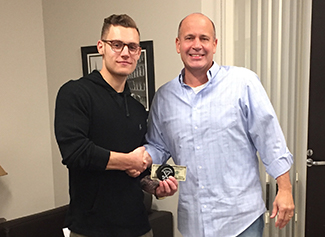 Blain was presented the award for the month of March at a company breakfast where his colleagues were able to congratulate him on a job well done.
When asked about his contributions to the organization and the team, Director of Recruiting Shannon Kossakoski said, "Blain has an endless, tireless work ethic and always manages to maintain a positive attitude while getting the job done. He had an excellent month in March and he continues to reach beyond what is expected."
A full-desk recruiter on the direct-hire team, Blain is responsible for recruiting for a wide variety of IT jobs. He is focused on professional services, network/systems, and cyber security, with a special interest in DevOps.
Bravo, Blain!
---
Comments: