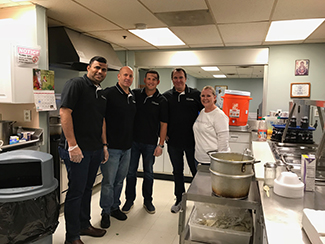 Since 1983, Lazarus House, located in nearby Lawrence, MA has tirelessly dedicated time and resources to combatting the cycle of poverty and hunger often found throughout the Merrimack Valley area. As part of their volunteer efforts, the JVT team was placed at The Good Shepherd Center, Lazarus House's on-premise soup kitchen. The staff convened at the soup kitchen wing on November 3rd, 10th, and 17th from roughly 8am-10am to prep food, serve local friends and neighbors, and help with cleanup efforts.
On average, The Good Shepherd Center provides a continental breakfast and hot noontime meal for more than 225 people each day. However, recent natural disasters have caused a significant influx in the number of people visiting the center daily. In her introduction to JVT helpers, Volunteer Coordinator, Marcy Furse, noted that the recent devastation in Puerto Rico has substantially increased guest totals, as there is a large population of families from Puerto Rico currently staying in the Lawrence area.
Marcy notes that no matter how high the numbers rise, The Good Shepherd remains committed to feeding anyone "who walks in the door," making it even more critical for volunteers to donate their time to keep up with the growing need. She and the entire Lazarus House staff enjoyed spending the mornings with the JVT team and appreciated their group efforts and positive attitude. "It was a joy having JVT serve with us today and jump in so naturally at our soup kitchen. Our staff loved having them and our guests were grateful for their bright smiles and enthusiasm. I hope to see many of the team members here again and look forward to growing our partnership with JVT."
JVT also enjoyed their time spent at Lazarus House. Founder and President, Torin Dragsbaek, was encouraged by the company's participation numbers and hopes to do more to serve those in need. "It was great to see that virtually everyone at JVT was able to help serve at The Good Shepherd during our designated volunteer dates. At JVT, we understand how important it is to not only work in this community, but to actively give back to it whenever we can. I'm looking forward to future opportunities of serving neighbors in the Merrimack Valley."
---
Comments: