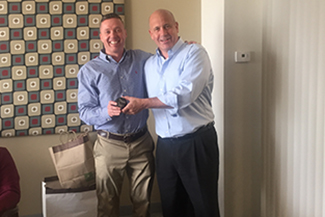 February came and went in a flash, but not before Senior Business Development Manager, Shawn Roderick, earned the nomination from his teammates to win the February employee of the month Puck Award. At a recent company meeting, President Torin Dragsbaek presented the award, highlighting a few of the reasons why Shawn is so deserving of this award. "No matter what the job, Shawn is always willing to step up and make things happen," said Torin. "I especially appreciate that he takes on tasks without even being asked. He is always there to help out."
This is Shawn's second stint at JVT. He first joined the team in 2007, left in 2011 and worked in healthcare IT recruiting for a few years before returning to JVT.
Congratulations, Shawn.
---
Comments: