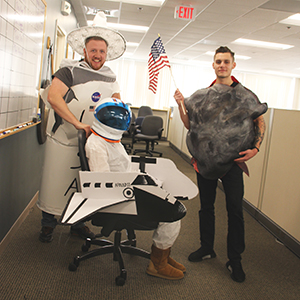 At JVT Advisors, we believe if our employees are having fun, they are going to work harder for our clients. The relationships we have with our colleagues...collaborating and interacting with each other are pillars to our success. Balance is key.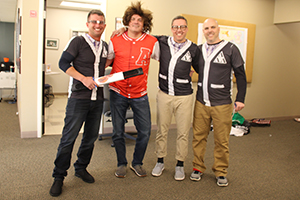 October was was filled with that balance...hard work and good fun!
Employees were divided into five teams with each team being assigned a decade "theme" - 1960s, 1970s, 1980s, 1990s and 2000s. Throughout the month, teams competed in business contests as well as other fun events. The signature costume contest and reveal concluded our October Halloweird activities with each group dressing up and giving a short performance in the spirit of their decade. From the 'first man on the moon' to dancing disco dads and all the others - the competition was fierce, and at the end of the month the winners were revealed.
Earning 1st place in the individual costume contest: Robert Hayes
Earning 1st place in the team costume and performance contest: My Three Dads - Scott Miller, Robert Hayes, Calvin Raval and Michael Liuzza
Did anyone get any video clips you ask? Why yes! Yes, we did! Enjoy!
Visit our YouTube channel to be entertained!
---
Comments: