LinkedIn: What Recruiters Want To See On Your Page
Posted on by Blain Poulin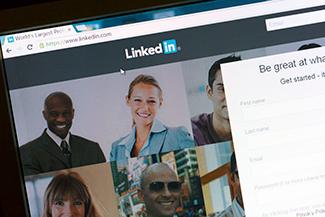 LinkedIn is a proven resource for recruiters filtering through the masses to pinpoint diamond-in-the-rough talent for their job opportunities. Beyond sourcing new candidates, recruiters are also leveraging this social media powerhouse to vet candidates already working through the hiring process as well.
A recent Jobvite 2016 Recruiter Nation Report indicates that 87% of recruiters find LinkedIn most effective when further qualifying candidates during the hiring process. Put simply: your LinkedIn profile matters.
Get Noticed By Recruiters Searching For Your Specific Talent
If you're updating your LinkedIn stats, it's critical to know what recruiters are looking for (or avoiding) as they pour through online profiles. Go into the process armed with a few simple tips to create a page that commands attention and stands out from the competitive crowd. When revising your page, be sure to:
Include ALL Skill And Technologies
Fill in your profile with all the relevant information you'd have on your resume, making sure everything is entered into the proper fields. Why? Because recruiters use various combinations of these fields for customized searches. Putting information such as Job Title, Location, Skills, Zip, etc. means your profile will come up in searches filtered specifically for those results.
Organize Positions, Start Dates, And End Dates
Whenever possible, keep various roles within the same company in a single section; entering each position as a separate section may dilute the impact of your overall job experience and make it seem like you "job hop" frequently. Additionally, be sure to enter in the correct end dates of a position. Recruiters often overlook candidates with several "ongoing" roles, assuming they already have a full professional plate.
Utilize the "open to new opportunities" feature
Click the "Open to New Opportunities" option on your profile. Utilizing this option allows you to privately indicate to recruiters that you're actively looking. Additionally, your profile will be separately grouped from other candidates generated in searches. For many recruiters, the "Open to New Opportunities" group is where they will begin their search.
Avoid Selfies
Selfies are a social media staple; however, they are not a great look on LinkedIn. Your profile photo will have a direct impact on the overall impression your page makes, so give it the attention it deserves. No selfies, no vacation shots, no weekend party pics. Choose a photo that looks professional and in line with the type of job opportunities you're pursuing.
Resist Bland Buzzwords
Don't overused, trendy keywords to fill up space on your page. Less is more.
Are you searching for your next job opportunity? Check out JVT's current list of openings across several leading practices. Or, contact our team today.
About the Contributor
Blain Poulin is a full-desk recruiter on the Direct-Hire team, responsible for recruiting for a wide variety of IT jobs. He is focused on professional services, network/systems, and cyber security, with a special interest in DevOps.
---