JVT Advisors Launches New Website
Posted on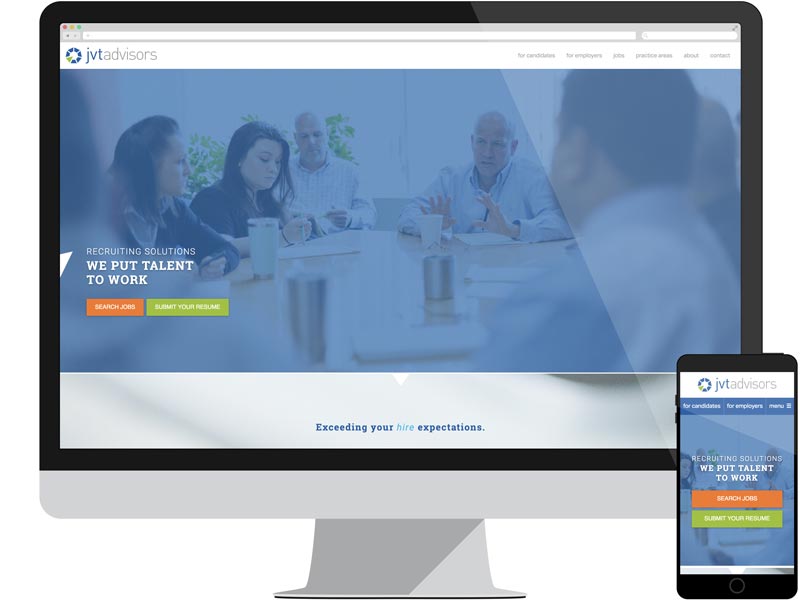 Andover, MA – Leading staffing and recruiting firm, JVT Advisors, recently announced the launch of their new corporate website at www.jvtadvisors.com. A trusted firm with over 20 years of industry experience, JVT recognizes the importance of having a current and intuitive digital presence for both clients and candidates alike.
The new design effectively services both sides of the employment process and reinforces the firm's already established commitment to delivering comprehensive hiring solutions that place the right people in the right jobs.
Founder and President Torin Dragsbaek discussed why now was the right time to revamp the team's existing online brand identity. "JVT has been in business for over 20 years and I've been recruiting for even longer than that. For most of those years, our digital presence was more of an afterthought. We've built our business by leveraging existing relationships and our reputation of excellence, both of which remain our core values. However, as staffing innovators, we are always looking for ways to better serve our clients and candidates. We recognize that a strong digital presence can help us continue to exceed hiring expectations and prove an invaluable resource when connecting top-tier talent with relevant opportunities."
In addition to its fresh, new look, the updated site also touts refreshed content, improved navigation, and a wide range of interactive features specifically designed to optimize the overall user experience. With just a few mouse clicks, both clients and candidates can access and upload critical information to assist with, as well as expedite, their specific hiring needs.
Dragsbaek acknowledges that this latest site design will also extend the reach of JVT's online brand into different staffing verticals. "JVT has recently expanded into new markets by adding HR, Finance, and Learning & Development staffing divisions to our existing High-Tech sector. We are growing in size and having an engaging digital presence that showcases this growth is important," he said. Dragsbaek goes on to note that, "Aside from modernization, the site and brand feels more personal and reflects who we are, what we do, and where we are going. The pictures are us, the ideas are ours and we're excited to introduce ourselves to the larger staffing market."
Come explore our new website and experience the JVT difference for yourself. Learn more about our extensive practice areas and full-service hiring strategies, or check our current jobs, upload your current resume and connect with a member of our skilled and experienced recruiting team.
---