How Companies Can Land Top Tier Gen Z Talent
Posted on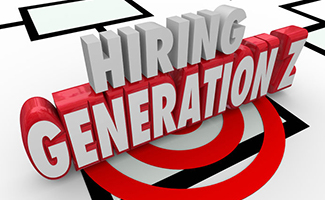 Just when we thought we had a handle on the millennial talent pool, an entirely new generation hits the workforce with new strengths, skills, and expectations. The latest generation poised to enter our hiring collective consciousness? Generation Z.
A title given to anyone born between 1996 and 2009, Gen Z brings with it sheer force of numbers. Recent statistics reveal that this generation accounts for 61 million people total in the U.S., making it larger than Generation X and only a third smaller than Baby Boomers.
Generation Z is the first generation raised with all things digital. Many of them may not remember a time before smartphones, websites, and social media. They are technologically savvy, they are accustomed to the instant gratification of having a wealth of information at their fingertips, and they are about to enter the workplace. Knowing a few tips on what this first wave of prospective employees are looking for and value can help you land and retain top-tier Gen Z talent.
When creating your recruiting approach for Generation Z consider:
Flexible Workspaces
This generation of employees has been immersed in mobile mentality. They understand how to work, play, and shop on the go. As a result, Generation Z may have blurred lines between what constitutes home and office space, allowing them to appreciate the opportunity for telecommuting as well as shared office space that has the amenities they need when they need it.
Focused Benefits
Millennials and even Gen X'ers appreciated the pool tables, elaborate coffee bars, free food, and casual Fridays that made long hours spent at the office more palatable. However, Generation Z's ability to work from anywhere may actually make them appreciate old school, tangible benefits such as solid health care plans, gym memberships, and retirement savings.
Multi-Tasking Positions
Generation Z employees are often masters of multitasking. They are accustomed to being accessible at any given moment and are often simultaneously working through countless digital apps, tasks, notifications, and updates, making them an ideal fit for positions that require straddling a multitude of functions and roles.
Empowering Entrepreneurialism
Previous generations often got their first corporate job after graduation. This is not necessarily the case with Gen Z. Globally-connected consumerism has inspired students to freelance or even start their own business while still in school. As they graduate and enter the workforce, this generation is likely to value a workplace that encourages problem solving, thinking above their current position, and entrepreneurialism.
Are you looking to modify your recruiting approach as Generation Z enters the workforce? JVT Advisors can help. Contact us today to connect with a professional recruiter and discuss your current hiring needs.
---