Artificial Intelligence Is Transforming Your Job Search - Should You Care?
Posted on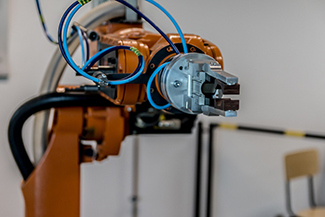 Artificial intelligence (AI) is no longer just a cool, futuristic concept. AI has officially permeated our everyday vernacular, existence, and digital experience.
Whether it's as simple as asking Siri (or Alexa or Cortana) to perform a task, or as complicated as ordering a dark roast coffee (with milk and flavorings) at Café X, San Francisco's fully-mechanized coffee shop, we are continuously surrounded by automated innovations explicitly designed to make our lives easier and more convenient.
Machine Learning Is Making An Impact On The Hiring Process
While most of us are intrigued by AI's rapid progress in the past several years, we can't help but collectively wonder how the presence of automation will impact both the job market and the hiring process. At JVT Advisors, we've already seen several telltale signs that robots are making an indelible mark on how several corporations recruit. Even Google has gotten in on the act; the browser giant recently released Cloud Job Discovery (formerly Cloud Jobs), a program that expedites hires by leveraging machine learning to analyze job content and job seeker intent for a faster talent/opportunity match.
The technology has received rave reviews so far. Sjoerd Gehring, Global VP of Talent Acquisition at Johnson & Johnson, had this to say about Cloud Job Discovery; "Transforming our career site with Jibe and Google Cloud Job Discovery directly impacts our ability to attract high-quality talent and hire those candidates faster. Lots of people are looking for their dream job, and if it's here at J&J, we want them to find it quickly and easily."
Will AI Eliminate Jobs?
While machine-learning technology will unquestionably influence the human capital management experience, the question remains; "Will artificial intelligence replace humans in the job market altogether?" Probably not. Yes, all signs indicate that AI is here to stay and will likely change or eliminate various jobs and functions. However, while artificial intelligence may eventually master a multitude of tasks and roles, some things can never be synthesized. Companies of every size and scope will always require key intangible proficiencies like empathy, interpersonal skills, critical thinking, and leadership capabilities.
Most importantly, while the onslaught of recent AI advances have planted automation firmly on the fear radar for some, it's important to remember that none of this is really new. Humanity has been endeavoring to keep up with innovation since, well, forever. Just as farmers had to learn to ride their tractors and cashiers had to learn to scan barcodes, modern job seekers will have to find a way to not just evolve with the technology, but also find a way to make themselves an indispensable component of the process.
---