7 Reasons Qualified Candidates Don't Get Hired
Posted on by Yhoumey Won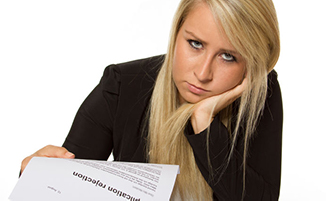 You've just interviewed for your dream job, and you're confident about the outcome. Not only do you feel you've presented well in person but, on paper, you're a perfect fit.
You have all the right skills, experiences, and credentials, making you the most qualified candidate for the position. So, you should receive your offer letter at any moment, right?
Not always.
Today's hiring managers go beyond relevant resume skills and accurate interview answers before making their final decision. There are a slew of global factors at work throughout the process that can quickly eliminate you as a prospect. If you're continuously missing out on relevant job opportunities, it's time to acquaint yourself with some of the top reasons why you may not be landing the job.
Grammatical Errors
Sure, you may have all the right things listed on your resume, but are they all spelled correctly? A sloppy application riddled with spelling, syntax, and grammatical errors can instantly take you out of the running, no matter how qualified you may be.
Being Late – Without Apology
If you can't arrive on time for an interview, how can a hiring manager trust you'll show up on time if you get the gig? Make it a practice to arrive at least 15 minutes before your scheduled interview time. Should unforeseen and unavoidable circumstances join forces against you to make you tardy, be upfront with the hiring manager and apologize.
Poor First Impression
Perhaps the only thing worse than a sloppy application? A sloppy applicant. No one wants to hire an unkempt candidate. Dress appropriately for the position you're applying for and remember that showers and sound personal hygiene are never optional. Beyond appearance, employ the use of a firm handshake and eye contact to make the best first impression possible.
Bad-Mouthing Your Employer
Bitter about your current (or previous) employer? Keep it to yourself. Griping about former companies or colleagues not only gives you on off-putting, negative energy, but it also makes interviewers wonder what you'll say about them someday if they hire you.
Unprepared
Many candidates assume that their resume will speak for itself. It won't. Not only should you be ready to further expand on your skills and talents, but you should also be prepared to discuss why you'd make an asset to the hiring company as well. Research the company in advance, so you're ready to demonstrate value.
Lack Of References
Not having references is a major red flag for potential employers. Always arrive at an interview ready to give the names of at least one former supervisor willing to sing your professional praises.
No Social Media Presence
Most interviewers will absolutely do a little social media sleuthing on you, making it critical to give them a lot of positive posts to peruse. At the very least, take the time to update your LinkedIn profile. You may also want to take a few moments to go through your other social media accounts to make private anything you don't want future employers to see.
Unrealistic Salary Expectations
Salary is one of the biggest reasons qualified candidates don't get hired. If your salary requirements are consistently above industry standards you may want to adjust your expectations to remain a viable applicant.
Feeling frustrated with your job search? JVT Advisors can help. Contact our team of recruiters today to discuss current open opportunities.
About the Contributor
Yhoumey Won is a Recruiter with the JVT Direct-Hire team. She makes it her mission to partner with candidates and find the professional fit that is right for each individual.
---