6 Tips To Optimize Your Resume
Posted on by Blain Poulin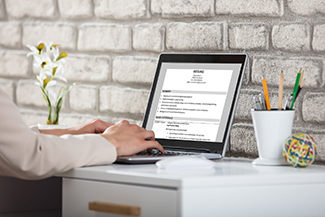 Ready to begin your job hunt? Often, a successful search starts with an updated resume. No matter how fast and far the job search landscape evolves, hiring managers and recruiters still rely on a well-formatted, well-communicated resume when screening prospects.
At JVT, we recommend updating your resume every 6-12 months so it's ready to go whenever you are. Has it been slightly (okay, maybe a lot) longer than that since you've dusted off your resume? That's okay. Knowing a few simple, yet effective, tips can make updating your resume relatively painless.
Keep It Short And Sweet
No one has the time (or interest) to read copious amounts of copy. This could be your only opportunity to sell yourself as the industry authority you are – and you only have a few seconds to do it before a recruiter or potential hiring manager moves on to the next resume in the queue. As a general rule-of-thumb, most resumes only need four sections:
Summary of Qualifications
Education and Certifications
Work Experience
Technical Skills
Use an easy-to-read, bulleted format to include the most relevant details of your experience without making your resume an all-inclusive account of your entire career.
Lead With Verbs
Hiring managers want to know what you know how to do - so tell them. Don't lead with nouns, adverbs, or adjectives. Instead, start every bullet with a verb to shine a spotlight on your capabilities. Whenever possible, include impactful words, such as:
Developed
Sold
Launched
Drove
Arranged
Managed
Trained
Increased
Saved
Prepared
Assisted
Created
Outline Achievements
Many candidates list every job responsibility on their resume, but fail to quantify specific achievements. Be sure to include all relevant accomplishments, project rescues, and revenue boosts to really drive home your candidate superpowers.
Out With The Old
We all have "resume filler" lurking on our pages somewhere – it's all the stuff we put on our resumes years that 1) is no longer relevant and/or 2) no one really cares about at this point. If it's older than 15 years old or doesn't pertain to your current career goals, get rid of it.
Customize Based On Job
Every opportunity is different. Customize your resume to highlight your most relevant experience, especially if you are a technical candidate with a diverse skill range. Monster.com offers several IT resume templates to help get you started. Just a few simple changes can have a significant impact on how quickly your application gets noticed by recruiters and hiring managers.
Be Honest
This is quite possibly the most essential resume rule to remember. As you begin to update your CV, you may feel tempted to enhance, exaggerate, and embellish your work experience. Resist. Inevitably, anything untrue on your resume can and will come back to bite you, forcing both hiring managers and recruiters to immediately dismiss you in favor of other, more trustworthy, candidates.
Have you begun your job search? JVT's team of recruiting professionals can help. Contact us today to learn more about our current open opportunities.
About the Contributor
Blain Poulin is a full-desk recruiter on the Direct-Hire team, responsible for recruiting for a wide variety of IT jobs. He is focused on professional services, network/systems, and cyber security, with a special interest in DevOps.
---